Our Mission Is To Deliver Immediate, Measurable, Sustainable Sales Results
We help our clients accelerate sales success and get immediate and measurable results using our patented Closing Time Sales and Sales Negotiation System.
Our proven, patented system is based on research and the best practices we have developed through our work with world class sales organizations. Sales executives world-wide use our system to get measurable results.
Talk with us to learn more about our acclaimed and patented "Closing Time" sales and sales negotiation system and that is:
Easy To Implement
Easy To Use
Gets Immediate Results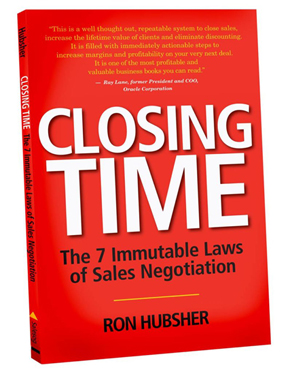 Here Is What Our Clients Say

"

We tripled— 3x—revenues! That literally meant hundreds of millions of dollars.

"
Jim Murphy, President, Western Digital

"Added an additional
$1 Million in revenue on a
single deal."
Tom Schencker
Director Sales Training, Walgreens

"

We got a huge account
we never thought we
would get.

"
Leo Tilley, Director Global Performance and Learning, Kimberly-Clark